A Glance at the New 2022 Frontier
Are you looking for a truck that can handle just about everything you can throw at it? If so, it is time to check out the new 2022 Nissan Frontier. We are Nissan of Jacksonville, and we are proud to be one of the first dealerships in the area to get the new models on our loss. We invite you to come down and take a look at all of the new vehicles we have to offer, including the 2022 Nissan Frontier. Take a look at a few of the specifications of this vehicle below, and feel free to reach out to us with any questions or concerns! We believe you would look perfect in a new 2022 Nissan Frontier from Nissan of Jacksonville!
The Towing Payload of the 2022 Nissan Frontier
If you want a truck that can carry just about everything, that is exactly what you will get from the 2022 Nissan Frontier. It has a maximum tow rating of more than 6700 lb. This creates new possibilities for you, regardless of what you plan on towing behind the vehicle.
You can also put a heavy load in the truck bed. The 2022 Nissan Frontier can handle a payload of more than 1,600 lb, allowing you to carry just about anything you need from place to place.
Even though the truck is powerful, the secret is in the advanced towing technology. There are multiple tech features associated with this vehicle that allow you to tow more without harming your vehicle or risking your safety. For this reason, the 2022 Nissan Frontier can handle just about everything you can think of.
Brand New Interior Features with the 2022 Nissan Frontier
In addition, the 2022 Nissan Frontier also comes with a wide variety of new interior features. For example, you will fall in love with zero-gravity seating. You will be incredibly comfortable with the amazing design of the front seats, which will make it feel like you are floating on air. Dealing with awkward pressure points is going to be a thing of the past.
Furthermore, if you get into the truck in the middle of winter, you don't have to worry about feeling cold anymore! The truck comes with heated seats and a heated steering wheel. You don't need to worry about getting frostbite when you climb into the vehicle.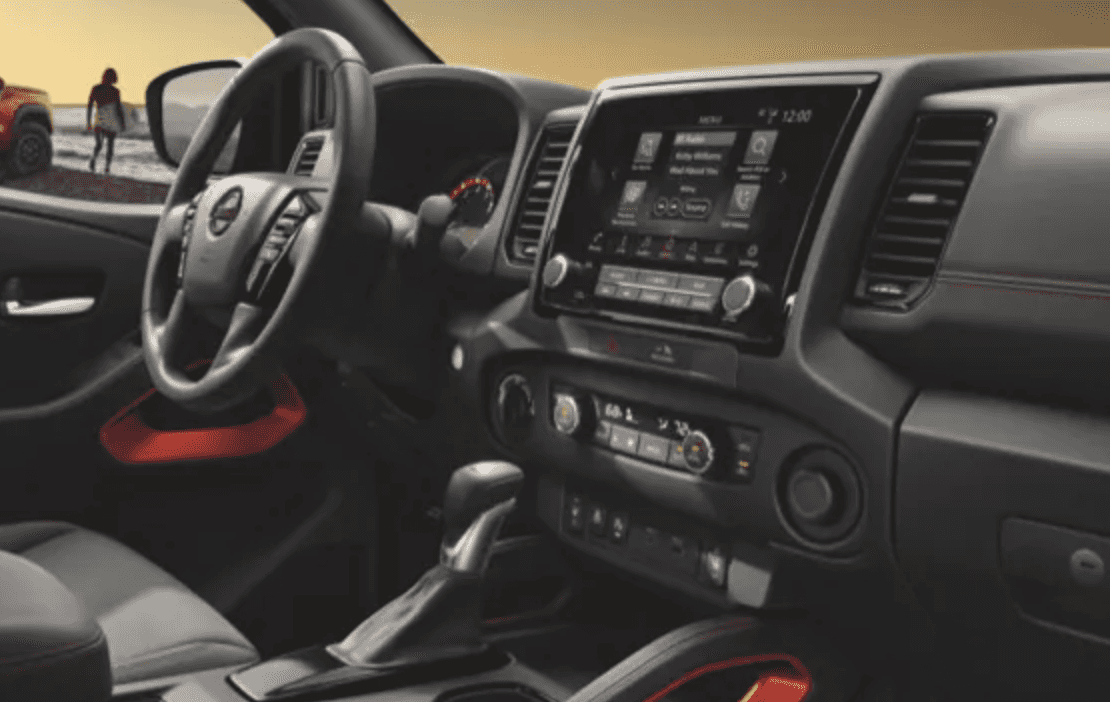 Furthermore, you can start the engine remotely. That way, you can make sure it warms or cools to the right temperature. The remote start engine system comes with intelligent climate control, so you can make sure everyone is comfortable as soon as they get in the vehicle. When this is combined with comfortable seating for everyone, you will see why so many people are clamoring for the 2022 Nissan Frontier.
Stay Safe With the 2022 Nissan Frontier
Of course, safety is always at the top of the priority list when you buy a vehicle from Nissan of Jacksonville, and this includes the 2022 Nissan Frontier. It has a wide variety of advanced security systems that will make it nearly impossible for someone to steal this vehicle. Furthermore, it has numerous other safety features that can help you protect yourself, your passengers, and other people on the road.
Depending on the package you purchase, there are multiple safety features that can reduce your chances of getting involved in a motor vehicle accident. If you are looking for specific safety features, the team from Nissan of Jacksonville is always available to walk through them with you! With plenty of advanced safety features on board, this vehicle will always be on the lookout to make sure you are safe.
Visit Nissan of Jacksonville Today To Test Drive a 2022 Nissan Frontier!
If you are ready to test drive a 2022 Nissan Frontier, we are here to help you. At Nissan of Jacksonville, we have made it easier than ever for you to afford the vehicle of your dreams. We would love to explore the 2022 Nissan Frontier with you, so contact us today to make an appointment with our team! We would love to get you behind the wheel of one of our new vehicles!