A Glance at the all New 2021 Versa
Nissan of Jacksonville- Versa
The smooth ride and comfortable interior of the new Nissan Versa make it have a high level of appeal among different types of drivers. Those who want a commuter car can rely on the Versa because of its fuel efficiency and high level of accommodation. If you want to discover more about the 2021 Nissan Versa, there are a few facts to understand before seeing it in-person at our dealership in Jacksonville.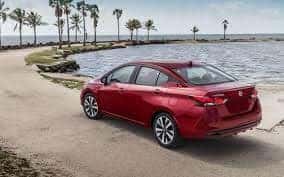 Highlights
The upscale cabin is one of the top reasons to buy the 2021 Nissan Versa because it feels like a luxury car in the front and back rows. The refined ride is one of the car's main selling points, making it feel like it's gliding while driving on different types of pavement. The car comes standard with a 1.6-liter four-cylinder engine, which generates 122 horsepower and 114 pound-feet of torque. It delivers sufficient power for daily driving and getting around town. Drivers will also find it delivers satisfying steering and manages to stay controlled without a lot of body roll around sharp turns. The trunk space ranges from 14.7 to 15-cubic-feet, depending on the trim you select. The sedan proves to offer more than enough room for storing different shapes and sizes of items and makes it easy to place items inside.
New Features
A few new features have been added to the latest 2021 Versa, which includes keyless entry to make it easier to get in the car a lot quicker without digging around for your key. A backup camera comes standard and is helpful for getting a better view behind the car while pulling out of parking spots. Push start is also convenient once you access the cabin. Bluetooth offers a high level of connectivity to ensure you can continue to use your devices while on the go and away from the home or office. You can also utilize Apple CarPlay and Android Auto to stay connected to your apps and continue using them on the go. The cabin is nicer than you'd expect and has undergone a redesign from the previous generation. The vehicle has a lot of soft-touch materials on the dashboard and doors, as well as edgy accents that add a sleek look. It has a more harmonious design that makes it easy to feel at ease and relax, even when you're seated behind the wheel. Physical buttons are also present on the dashboard when you want to adjust the climate settings. The layout of the dashboard looks organized without a lot of clutter present, creating a visually appealing design. Everything is within reach of the driver's seat to avoid stretching too far to adjust anything while driving.
Safety Features
The solid list of safety features in the sedan includes automatic emergency braking for increased stopping power to avoid collisions. Side impact beams also offer more stability on the frame of the car to reduce the risk of injuries in a collision. A blind spot monitor is helpful for spotting cars on the side of the vehicle to avoid changing lanes or getting too close. Families will also find the 2021 Versa to be a safe option because it comes standard with rear child safety locks. Some of the trims include a driver attention monitor that offers accountability with how you drive. It will immediately alert you if you start to become fatigued while behind the wheel. Forward and reverse automatic emergency braking and forward collision warning also comes standard. Adaptive cruise control is also extremely convenient and helps you to avoid tailgating by maintaining a safe distance behind the car in front of you while taking long drives.
If you want to learn more about the Nissan Versa and how well it drives, reach out to our Nissan of Jacksonville dealership today to work with our team to schedule a test drive. Our team at Nissan of Jacksonville is ready to assist and can help you find a reliable car for getting around Jacksonville.