Benefits of Servicing your Vehicle at a dealership
When you buy a great new Nissan car, pickup, SUV or a van at the Greenway Nissan showroom in Jacksonville, you get more than a dynamite value on a terrific vehicle. You also get the opportunity to have our factory-trained and certified mechanics give your vehicle the best possible preventive maintenance and repairs as needed.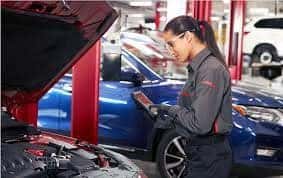 We have many great reasons why you should not just buy your next new or used vehicle at Greenway Nissan but also come back for maintenance services that help to keep ownership costs low and satisfaction very high.
When you need work done on your car but are too busy to bring it in, we have you covered. We can pick up your vehicle and bring it to our service facilities. Our experienced technicians will use the latest diagnostic tools to check all vehicle systems and learn what might be wrong with your personal transportation.
Once we have a full reading on the situation, we put together and execute a plan to correct anything that might be wrong while providing timely preventive maintenance on various systems. A multi-point inspection is a great way to identify the systems and parts that need work while helping to ensure your vehicle continues to provide good and reliable service.
First-Rate Service Facilities
Modern vehicles have lots of great features that help to make them safer, more comfortable and more fuel efficient while still deliver a satisfying level of performance. You need our Nissan Service Center to help keep your modern new vehicle in top running shape. Diagnostic tools can help to determine if any vehicle systems need maintenance or repair work done, and our factory-trained mechanics have the skills, experience, tools and OEM parts to fix things and make them just like new again.
If you are just stopping by for a quick oil change or brake service, you can enjoy our well-supplied customer lounge. There you can enjoy free snacks and beverages while using our free Wi-Fi to stay connected with work and your family. We also have quiet workstations where you can get things done while we take care of your vehicle. Our client lounge makes the short wait for service go much faster while making the time more productive for you as well as your vehicle.
Nissan Express Service Ensures Maintenance Gets Done
About twice a year it helps to bring your new Nissan through for our Nissan Express Service. The factory-oriented service gives your car a full multi-point inspection to identify anything that might need maintenance or possible repairs. The express service can include an engine oil and filter change, brake inspection and replacement of pads, wheel balance and tire rotation services, and many others that help to keep your Nissan on its best possible running condition.
Even if you do not buy a new Nissan from us, our wide selection of certified used models and pre-owned specials are sure to put you in a great ride. Our technicians can maintain and repair virtually any make or model and provide efficient and affordable Nissan Express Service, too. That helps you to save money on a great vehicle while helping to ensure it stays reliable and getting the best possible fuel economy.
Wheel and Alignment Services
You cannot get a good ride if you do not have good tires and wheels making everything roll as smoothly as possible. Our wheel and tire services help to keep your tires in their best condition with regular balance and rotation service that evens out the wear and tear. If an alignment problem arises, we can take care of it with a two- or four-wheel alignment service and have you driving on a naturally straight path again.
Financing for Services and Parts
Sometimes, our vehicles surprise us with higher than expected maintenance or repair costs. We help to take the sting out with affordable financing specials for parts and services. When you buy from us, we do our best to make sure you got a reliable vehicle and it stays that way until you are ready for another.